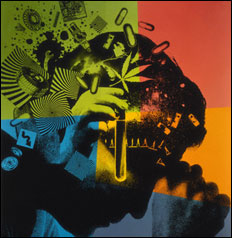 BUPROPRION
Side Effects



Common Bupropion side effects include dry mouth, nausea, insomnia, tremor, excessive sweating and tinnitus (ringing noise or other type of sound in the ear). In some individuals, the agitation or insomnia is most marked shortly after starting therapy.

Some Bupropion patients may experience weight loss. Uncommonly, some may experience manic episodes or hallucinations. Additional possible side effects include rashes and nausea. It is said that the development of mild to moderate skin rashes is associated with sensitivity to dye components within the pill coating. This can often be alleviated by simply prescribing a different color pill.

If you're taking Bupropion, get emergency medical help if you have any of these signs of an allergic reaction - hives; difficulty breathing; swelling of your face, lips, tongue, or throat. You should stop using Bupropion and call your doctor immediately if you have a seizure (convulsions) or fast, uneven heartbeats.

It is important to note that side effects other than those listed here may also result from taking Bupropion. Be sure to consult your doctor about any side effect(s) that seems unusual or particularly bothersome.